VAMCO offers special discounts for marine products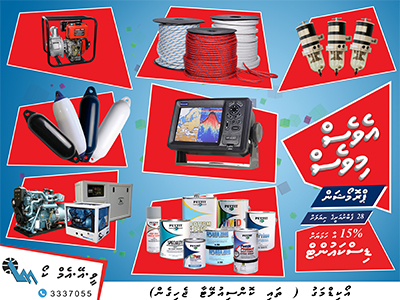 Local firm VAM & Company on Wednesday began a special promotion titled "Eves Mives Promotion" offering up to 15 percent discount for a wide range of products marketed by the company.
According to a press release by VAMCO, the offered discounts encompass anchors, generators, GPS systems, fenders, chains, fish finders, ropes, polishing and cleaning products, marine paints and antifouling, and navigation lights among others.
The Eves Mives Promotion will be held till February 28.
VAMCO is one of the largest dealer of marine equipment and products in the Maldives. It provides repair and maintenance services across the country and via their Service Centre. It is also the sole local distributor of various globally renowned brands such as Stamegna, Nanni, Pettit, Autosol, Webasto, Rev 1, L&W, and Doosan. Moreover, the company has notably won the Marine Equipment Supplier of the Year Award at the Maldives Boating Awards last year.
Mihaaru Online: http://en.mihaaru.com/vamco-offers-special-discounts-for-marine-products/