VAMCO and Al Shaali Marine partnered to power Doosan engines in Al Shaali Marine's vessels.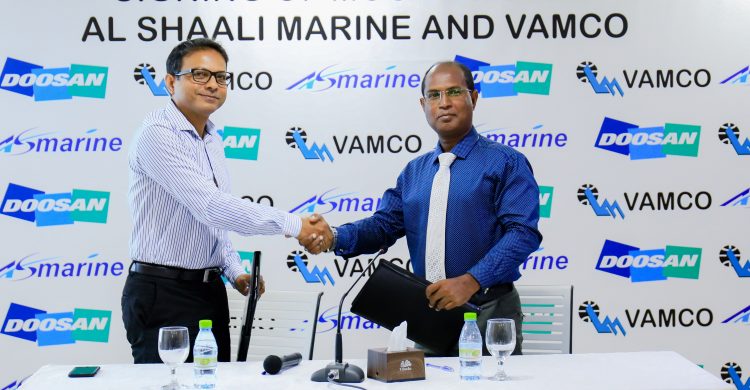 Al Shaali Marine Maldives (AS Marine Maldives) and VAMCO signed an MOU to collaborate on a project. The signing took place on 20 November at the Champa Central Hotel. Operations Manager Mr Ismail Shareef signed on behalf of Al Shaali Marine Maldives and Managing Director Ahmed Zubair signed on behalf of VAMCO.
The MOU is a collaboration between Al Shaaali Marine the winner of the "Best Built Vessel" Award and VAMCO, the winner of the "Most Preferred Engine Brand – Doosan" at the Maldives Boating Awards 2016.
Under the partnership, Al Shaali Marine's vessels, particularly the Island Hopper 50 model vessels will be powered by Doosan Engines and other marine equips distributed by VAMCO and offered as a complete package to customers.
The partnership will result in high quality complete marine solutions at very competitive prices for resorts, guest houses and other customers.
Exceptional after sales services will be provided by VAMCO Service Centre and Al Shaali Marine to customers who utilize the engines and vessels delivered under the partnership. The partnership is expected to enhance customer experiences and boost growth for both companies.
VAMCO is the largest dealer of marine equipment and products in the Maldives. Being a one-stop place for quality and reliable marine solutions, we have been providing solutions for sectors such as the fishing industry, tourism industry, ferry, and transport services for more than 17 years.
AS Marine Maldives had been delivering top quality fibreglass boats to the Maldivian market for more than a decade. The company provides service such as boat design & manufacturing, haulage, Repair & refurbishment, semi & fully customized solution, fabricating & welding works, Engine servicing & rebuilding and complete boat fit-out. Al Shaali Marine Maldives Pvt Ltd. is a joint venture between Al Shaali Marine Dubai and Coastline Investments Pvt Ltd, Maldives.