Doosan Lakka Promotion 2017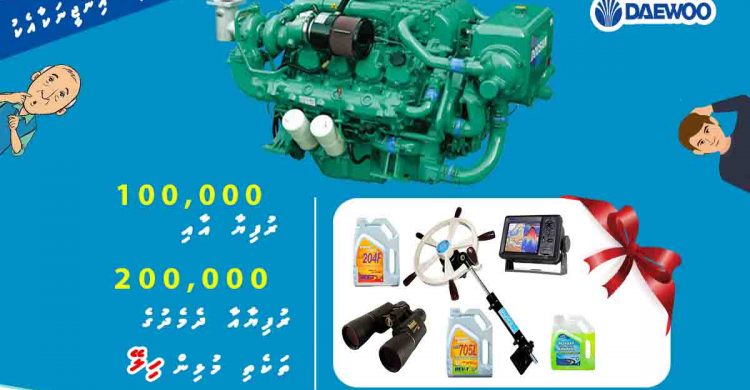 VAMCO has launched a special promotion under the name "Doosan Lakka Promotion" today. Under the promotion free items worth between One Hundred Thousand Rufiya and Two Hundred Thousand Rufiya will be given with each Doosan Daewoo Engine Purchased. The free items include Steering System, GPS with Fish Finder, Navigation Lights, Auto Switch, Bilge Pump, Zinc Anodes, Binoculars, Lubricant, Gear Oil, Coolant and many more. The promotion will be carried out till 31 July 2017.
More than 400 Maldivian vessels use Doosan Daewoo Marine Engines distributed by VAMCO. Doosan Daewoo won the Most Preferred Marine Engine Brand Award at the last two Maldives Boating Awards. These engines are renowned for their durability, low initial cost and low fuel costs. They are also reputed for their speed, low noise and low vibration. VAMCO offers a wide range of light, medium and heavy-duty Doosan Daewoo engines between 160 horsepower and 1200 horsepower. VAMCO is the Sole Distributor of Doosan Daewoo Engines in the Maldives and provides repair and maintenance services anywhere in the country and through VAMCO's Service Centre.